EasyPOOL
-
Application
for
Samsung
SmartTV
Superb and simple entertainment for every day. It is easy to play and to win although the game does not contain any clues that can destroy your interest. During the game you accumulate points and there are two kinds of bonuses providing players with great thrill. There is a game option for two players. Compete with other players for the place in the world rating. Weekly and monthly standings of winners.

The application is available in the
Samsung Apps
Smart TV
(for models TV Samsung 2012, 2013, 2014)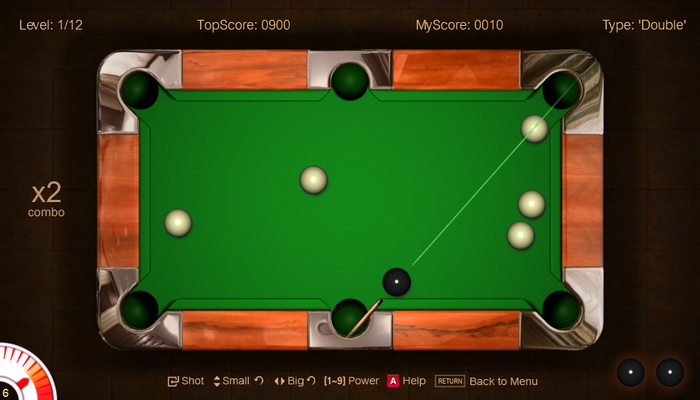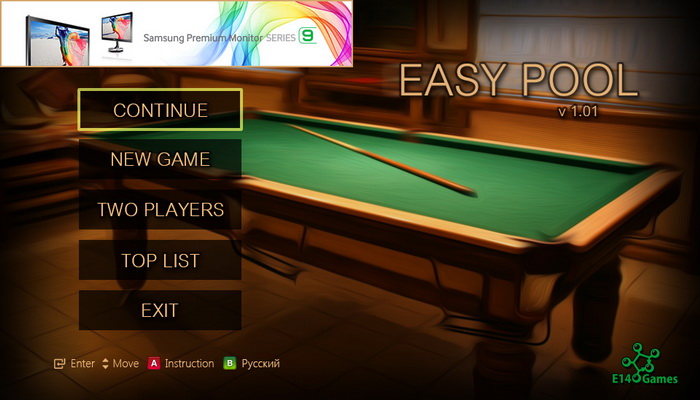 The aim of the game is to hit all white balls into the pockets.
The shot is made with the black ball. Using controls you can select the direction and force of the shot made with the black ball. LEFT and RIGHT buttons are used to alter the shot direction while UP and DOWN buttons are used to aim carefully. Figures 1-9 determine the force of your shot. ENTER button is a trigger.
The player has three black balls. The player loses the black ball if it gets pocketed or after the shot when the black ball does not strike the white one. The game is over if the player loses all three black balls.
The level is completed when all white balls are in the pockets. The game is won if he player has completed all twelve levels. You get points for each pocketed ball. After accumulating 500 points the player is returned the black ball if it is lost earlier in the game.
There are two kinds of bonuses: "Double" and "Target". "Double" bonus becomes active if you have pocketed several white balls in a row. "Target" bonus indicates the pocket you have to hit the ball into in order to multiply your points. The bonus is active for five shots.
You can select the game option for two players with "Double" or "Target" bonus types. Each player takes turns to make three shots. The player that gets more points after the win gains the victory. If one of the players loses three black balls, he loses the game. If one of the players has finished the game, the second plays until the win. The remaining player has limitations on the number of shots, for each six shots he gives one black ball.
There are local and world ratings in the game. Entry to the local rating is conducted after the round. Entry to the world rating is made only after winning all twelve levels.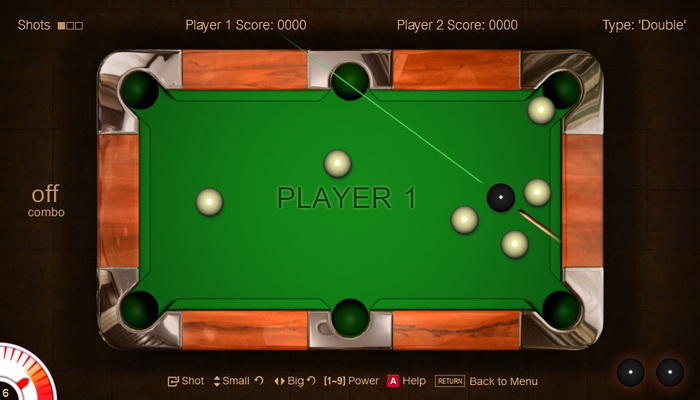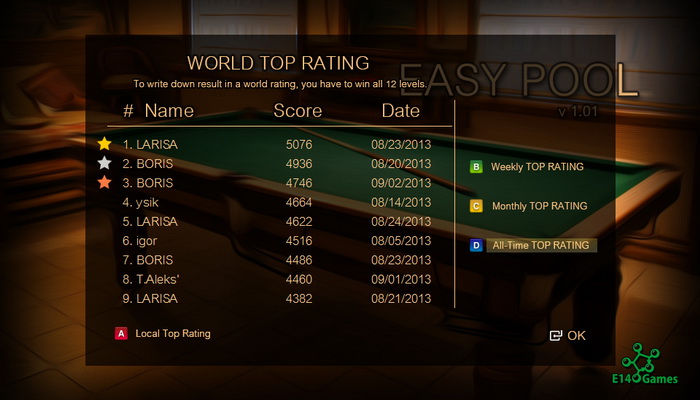 ---
Try the free version of EasyPOOL for mobile
---
You can instantly get the activation code from our Canadian partner -
Payproglobal.com
---
Platform: Samsung Smart TV
Release Year: 2013
Developer: E140Games
---